Steering Legal sponsors the 6H Juriskart, which will be held on 30 September 2017 at the Racing Kart in Cormeilles. Adrien Matillon and Pierre Wattenne will be the drivers of our team.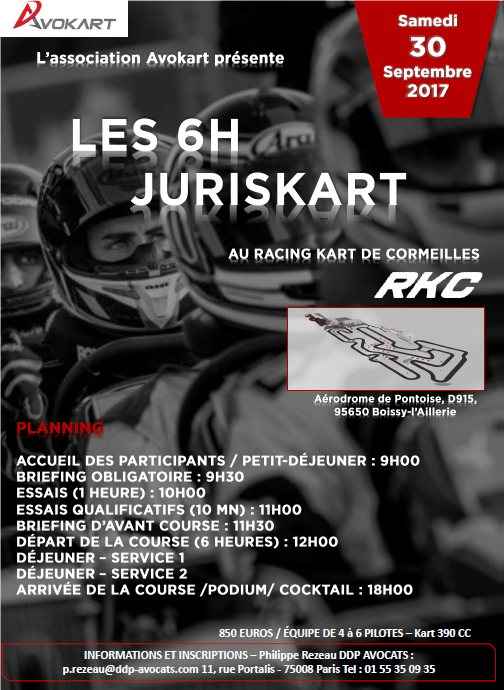 Professor Mathias Audit, Partner of Steering Paris, will participate in the 5th International Arbitration Moot, in La Havana on 13rd et 14th July 2017.
Steering will be present at the Salon de l'Expatriation (Expatriation Fair) on 30th and 31st May 2017 at the Cité de la Mode et du Design.
Address
34 quai d'Austerlitz
75013 Paris
Registration here
Steering Legal (Olivier Guinard and Amélie Lièvre-Gravereaux, partners, and Adrien Matillon, associate) assisted Mr. Jean-Marc Lebhar in a minority interest purchase at the outcome of which executives of the Group, joining forces with Siparex, were able to increase their share capital ownership of Lebhar, the French […]
Steering Legal (Olivier Guinard, partner, and Alice Bellilchi and Camille Baux-Valerdi, associates) assisted the Emeraude Cottage holding company in its acquisition of SCI Emeraude, owner of a plot of land almost 10,000 square metres in size in Saint Briac sur Mer.
Steering Legal has […]
Steering Legal assisted L'Occitane International in the sale of the Le Couvent des Minimes brand to the Filorga et SVR Associated laboratories associated with the HLD Fund. The Steering Legal team was led by Nuno de Ayala Boaventura et Adrien Matillon, respectively Partner and Associate of […]